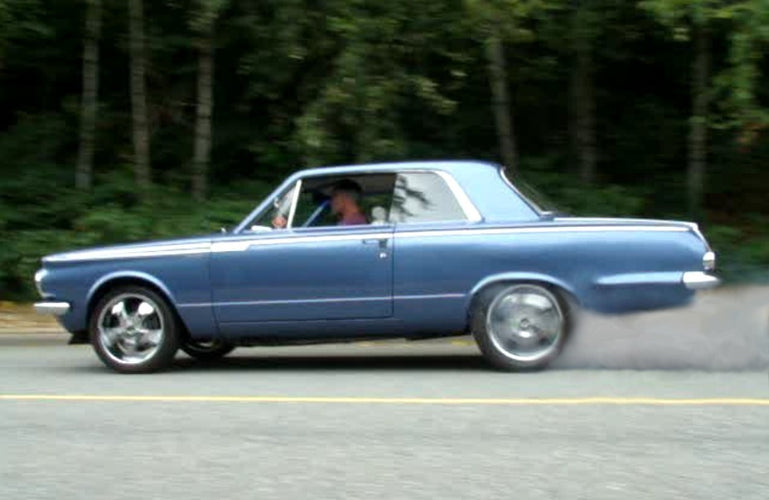 BenzForce customer Ken has built a pretty awesome 1965 Valiant to which we were happy to supply the turbo for.  Even though his car is not a Mercedes, I asked him to share his build with the BenzForce family in the spirit of the general car culture.  Here is his car's story:
I purchased the Valiant in 1974 to be my going to work car. The cost was $200 because it needed an engine overhaul.  The original engine was a 273 power pack V8 with 235 hp.  After freshening it up I drove it daily until 1986.  That had to be the cheapest transportation that I ever had.
I freshened up the car with new paint, new interior and  a fresh engine in 1986. (silver car with me in pics, I was a little younger then)   I took out the original 273 and put in a turbocharged 225 slant 6. The turbo ( Schwitzer 3LD279 ) was sitting on a shelf in the shop I worked in.  I passed by that turbo every day for a couple of years before I checked it out to see what it would work on.  Fortunately there was a compressor map that looked to be best for a gas engine of about 200-250 cubic inch.  That is why I changed to the slant 6. 
Back in 86 there was no information about turbocharging a slant 6 so needless to say, it was a learning experience. They are a tough engine but also with some shortcomings. First being that any high performance parts were designed only for naturally aspirated engines like the " Hyper Pack".  Everything related to the turbo had to be fabricated or modified from other engine parts. I built a distributor from parts to give boost retard. It was kind of crude, but it worked to pull back 12 degrees timing at full boost and still give vacuum advance for economy.  I converted the engine to run on propane to get 105 minimum octane and pressure compensating also.  There is a diaphragm in the mixer and in the vaporizer that were referenced to manifold pressure for enrichment under boost. After replacing numerous head gaskets, I finally came up with an air/ fuel ratio that worked.  I exceeded 20 psi of boost at that time after all was sorted out.  The propane worked very well for that level, no detonation.  I did have a spearco water injection system that squirted ahead of the turbo.  Yeah, I know what your thinking,  but there wasn't anything else out there,  and besides,  it worked.  TRW forged pistons were used to handle the pressure.  The rest of the car was upgraded to handle the power level of the engine. Rear end changed to 8 ¾" differential with clutch type "shur grip", alloy axles, ½" studs, upgraded springs, shocks, etc.  The unibody was tied together with 3 x 2 HSS tube and drive shaft loops installed for safety.  Transmission was an A833 close ratio 4 speed from a GTX 440. The clutch was an 11" B&B with a 3200 lb pressure plate.  You could not hold it in long at stop lights.  The brakes were upgraded to Mopar 11" discs up front and 10" drums in rear. The engine ran very well until a cylinder decided to crack half way down the bore thus destroying the piston.  An autopsy revealed a bad case of core shift in the block on cyl 4 allowing wall flex that eventually fatigued to cause the failure.  I put in a junk yard stock engine so I could keep driving the car but did mount the turbo on it with boost limited to 10PSI. 
Fast forward to 2009.  Engine number 3.  I was very impressed by the performance and durability of the slant 6 so I decided to get a little more serious on a build.  We lived close to Mission raceway park which had a good drag strip and at only 25ft above sea level so  that had an influence on engine build.  I hunted to find a good 1968 block ( factory improvements – stronger )  that would clean up at .020" over.  The machine work was done at a reputable performance engine shop.  A custom torque plate had to be machined for  bolting in place of the head before boring.  No place to find one for a slant.  The block was filled to 50% of coolant area, with block rock,  to stabilize the cylinders for high boost.  No more wall flexing.  I was not sure how well it would cool on the street , but with a large aluminum rad and dual electric fans there has been no problem even in temperatures above 90 degrees.  An oil cooler was added as extra insurance.  The pistons are wiseco forgings, rods -K1 4340 "H" beam,  forged crank,  ARP studs for mains and head, "O" ringed block,  copper head gasket,  turbo friendly performance cam, solid lifters,  double roller chain,  deep baffled 7 quart oil pan,  MSD programmable ignition,  and the most expensive part - a ported head.  Three different year heads were flow tested but very little difference was found between them  All the flow tests were dismal.  Maximum intake flow recorded was 148cfm on intake and 112cfm on the exhaust ( yawn ).   One of the shortcomings mentioned earlier is the head.   I cut a spare head into many pieces to see where metal could be safely removed from the ports.  Many hours were spent  grinding and smoothing the ports.  The combustion chamber was smoothed and opened up around the valves to end up with 62cc volume.  It was finished with phosphorous bronze guides, oversize stainless valves and hardened inserts for the exhaust valves.  The last flow test showed 192cfm intake and 152 cfm exhaust.   I have read articles that indicate others have exceeded 200cfm on the intake.  I guess I should have spent a little more time grinding.  
The chassis was modified further to match the engine performance.  Brakes were changed to large disc brakes, 13" on front, 11 ¾ on rear. The transmission was changed to an automatic so I could spool the turbo while car is still stationary.  It is a modified "904" with steel 4 planet carriers, 4 clutch pack drum front and rear, special clutch plates, special bands, billet servos, special valve body etc.  and a 9 ½"- 3200 stall torque converter.  The driveshaft is a "Victory" 3 ½" with large "Spicer" 7290 solid forged u joints.  The steering was changed to power rack and pinion with 2.7 turns lock to lock.  Large 1 1/8 stabilizer bar in front, ¾" in rear, all urethane bushed,  helps to keep the car level on corners.  All the suspension bushings were changed to urethane.  Larger diameter torsion bars were installed to improve handling.  Extra half leafs were installed ahead of rear axle housing to improve tire planting off line.  Wheels are 18" diameter with low profile G- force Comp T/A tires.  The car handles and stops really well as a result.  Traction is still an issue for acceleration.  Zero to sixty time was clocked at 5.2 seconds but I am sure it can do much better because the car would not hook up very well.
Shortly after the car was finished,  we retired and moved to central BC - no dragstrip.  Mission raceway is a 5hr drive from here,  so that doesn't work to have a day at the strip.  I never did get a time slip for the car.   I have drag raced several cars many years ago, so I have a pretty good idea what different ETs feel like.  I believe low 12s or high 11s are well within reach if I install a set of slicks. Maybe sometime in the future. 
One year ago, an EFI port injection system and a computer,  along with all the associated hardware,  was installed to replace the propane system.  The propane worked well but to meet the provincial requirements for collector plate application ( which means cheap insurance) the system needed to be brought up to meet current safety regulations which made it cost prohibitive.  So back to gasoline.  The computer was a pain in the, you know what, to program for a slant 6.  I did hear about the "Slant 6 Forum" which I went to for answers to a lot of questions. So I did learn a lot about automotive computerization.  Who says you can't teach an old dog new tricks?  It sure is nice to be able to data log everything.  No more guess work on tuning. 
This spring I changed the instruments to digital display.  It looks cool and attracts a lot of attention.  The dash had to be greatly modified.  The glove box was deleted  ( a longer door fabricated ) so that all the electrical components could be placed there.  Every wire in the car is terminated on the terminal strips,  so adding or troubleshooting is easy.  (See pic.) 
The turbo has worked well for 34 years until the shaft developed excessive radial movement. The housing was worn beyond tolerance,  It could be sleeved but why?  The old turbo is of obsolete design and at the price of new  I decided to upgrade.  So now, thanks to you,  I have the new Holset HX35. 
It all works well now,  pleasing street manners,  good performance and still more to come as soon as the fine tuning is done with the new turbo.  If the rain ever stops,  so I can see some dry pavement,  I might get out and finish tuning before the snow starts falling.  I had better sign off before this turns into a book or before you are sorry you asked for the history. 
Thanks for your interest, I hope you enjoy the cars story. 
Ken
Blind Bay, BC, Canada